September is the month of the Fiesta in San Miguel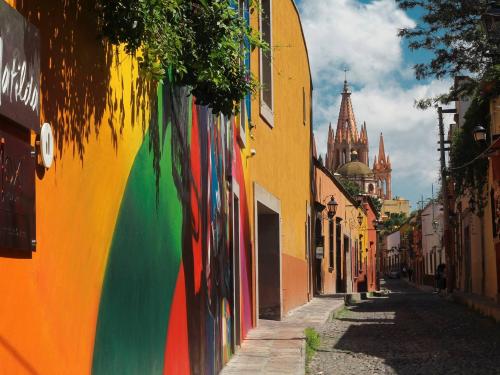 September is the month of the most important celebrations in San Miguel de Allende. "El mes de la patria" (the month dedicated to patriotic celebrations) in the whole country, in this beautiful town has a special relevance. The war that led to the independence from spain, started in 1810. The conspirators used to meet secretly here, in the basement of one of the historic buildings just a few steps from the Jardín Principal (main square). The first action to start the war, "El grito", happened in the neighbor town of Dolores when they got discovered. This important date is celebrated in the whole country and abroad, but it has a special meaning here.
Besides, the 29 of September is the day of San Miguel Arcángel, patrono de San Miguel. Practically every town in Mexico has a saint that is considered their "Santo Patrono" (the saint that protects the town according to the catholic tradition). This is celebrated with one of the biggest fiestas in the year. Other fiestas happen in September too, a month crowded with fiesta and celebration. One after the other.
The latest information about Boutique Hotel La Puertecita and San Miguel de Allende
The site MaiTravelSite.com recently published a good review about
Boutique Hotel La Puertecita
. A very professional work by the publisher Federico Arrizabalaga. You can see it
HERE